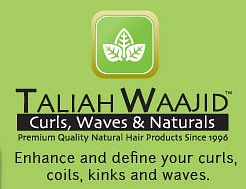 The Great Detangler
The Great Detangler is made for Curly, Kinky, Wavy and Coily hair textures.
For Curly, Coily and Wavy Hair Textures.
Softens hair on contact
Leave-in conditioner
Light formula
No Build up
Manufacturer:
Black Earth Products
Size: 8 oz.
With over 25 years of experience in serving natural hair clients, Taliah Waajid knows what your hair needs to be healthy.
The Great Detangler Eliminates tangles on contact. Softens hair, defines curl pattern. Stops breakage while combing curly, kinky, coily and wavy hair. Hair Detangler is rich with moisturizers, protein and conditioners. Coats and protects hair while softening. For best results, use the complete line of Black Earth Products..
Directions:
Use on wet or dry hair.
Separate a section of hair
Apply a liberal amount of The Great Detangler.
Use fingers to work the product through the hair to loosen the tangles.
Use a medium to large tooth comb.
Start at the ends of the hair.
Comb through up to the scalp and through tangles.
Style as desired.
Deonized water (aqua), Vitamin E, Olive oil, Peg-75 Shea butter (Butyrospermum parkii), Silk Protein, Cocoa Butter oil Extract Cetrimonium Bromide, Cetheareth-20, Vegetable Glycerin, Mineral Oil, Glycerol, D&C yellow#5, Fragrance (parfum) DMDM Hydantion, Detanglers, Balsam, Aloe Vera.