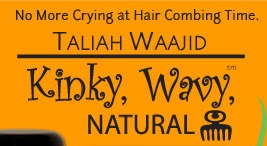 Kinky, Wavy, Natural Herbal Style & Shine Cream
For all Textures of Curly Hair
Green Tea & Sage Formula
Hair Styling & Hair Repair Cream.
Conditions, Adds Sheen, Moisture.
Stops Breakage.
Manufacturer:
Black Earth Products
Size: 6 oz.
Let me show you how to comb and manage your child's Kinky, Wavy Natural Hair. All curly hair needs moisture!

I am Taliah Waajid. I am a mother with two children who have healthy, beautiful, Kinky, Wavy, Natural Hair. I am a Natural Hair Care Expert and hair educator for over 25 years. Hair combing sessions will be easy for you and pleasant for your child once you use my Kinky, Wavy, Natural products. Kinky, Wavy, Natural products are moisture-based and are guarantee to make your child's hair more manageable. Try Kinky, Wavy, Natural and follow the instructions for managing your child's hair. You will be pleased with how easy combing and styling your child's hair will become from using Kinky, Wavy, Natural products.

Directions:
Styling/Shine-Rub a generous amount into hands. Apply to hair. Comb, brush and style.
Pressing Hair-apply a small amount to the sections of hair to be pressed then use a warm comb or ceramic iron to press the hair.
Maintain Locs-apply a small amount to the new growth and palm roll the hair.
For Twists-apply a small amount to two sections of hair and twist.
Stop Dry Scalp-Part hair and apply small amount to the scalp.
Massage into the scalp and hair.
Quality ingredients and Herbal extract:
Free of harsh chemicals and alcohol. My gentle formula softens the curl pattern while conditioning and making hair manageable.
Ingredients:
Peg-75 Shea butter (Butyrospermum Parkii), Glycerides (Vegtable Derived), Deionized Water, Aqua, Glyeryl Stearate, Cetearyl, Stearic Acid and Sodium Cocoyl Glutamate (Vegtable Derived), Glycern (Vegetable source), Sage Extract, Green Tea, DMDM Hydantion, Vitamin E oil, Silk Protein, Fragrance.