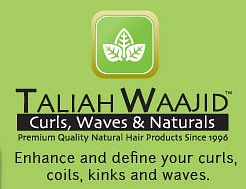 Curl Sealer
Stops Frizz, Adds Shine, Shapes and Seals in Curls, Leave-In-Conditioning and No Build Up.
Stops Frizz
Adds shine
Shapes and seals in curls
Leave-in-Conditioning
No build-up
Manufacturer:
Black Earth Products
Size: 6 oz.
With over 25 years of experience in serving natural hair clients, Taliah Waajid knows what your hair needs to be healthy.
Curl Sealer is a light, alcohol-free, Conditioning hydrating gel. Stops frizz, adds moisture, defines, shapes and seals in any size or texture of curl. Dries soft and adds shine with no flaking.
Directions:
Apply after shampoo.
Use on wet hair to set in curls.
Avoid combing/fingering through hair for at least 10-15 minutes to help seal in curls and prevent frizz
Also holds hair in place for ponytails, pinups, twist outs, etc....
Soft water, (Aqua) glycerine, polyquaternium 10 and peg 14, polyquaternium 37, DMDM hydantoin, yarrow extract (zizyphus Joazerio bark), lemon extract (citrus medic limonum fruit), wild mint extract (mentha avensis leaf), Soap bark extract (quillaja sapponaria bark), polysorbate 20, fragrance.