XBI
XBI Strong Bleaching Gel Brightening and Rejuvenating with Hydroquinone
The Most Popular and Most Affective skin lightener!!!!
For the gradual fading of dark (brownish) areas in the skin such as freckles, age and liver spots, or pigment in the skin that may occur in pregnancy or from the use of oral contraceptives.
Size: 2 oz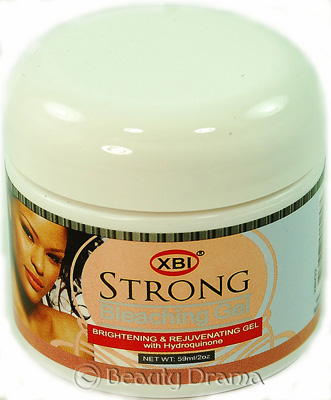 Directions:
Apply a small amount as a thin layer on the affected area twice daily, or use as directed by a doctor.
Children under 12 years of age: do not use unless directed by a doctor
Sun exposure should be limited by using a sunscreen agent, a sun blocking agent, or protective clothing to cover bleached skin when using and after using this product in order to prevent darkening from occurring.
For Best Results:


Apply a thin layer in the morning after washing your face with XBI Exfoliating Soap.
Repeat same before bedtime.




Active Ingredients:




Hydroquinone 2%





Inactive Ingredients:




Allatoin, Disodium EDTA, Fragrance, Glycolic Acid, Glycyrrhiza Glabra (Liporice) Root Extract, Hydroxyethylcellulose, Methylparaben, Phenoxyethanol, Polysorbate 20, Propylene Glycol, Propylparaben, Red33, Red 4, Slicylic Acid, Sodium Metabisulfite, Sodium Sulfite, Water