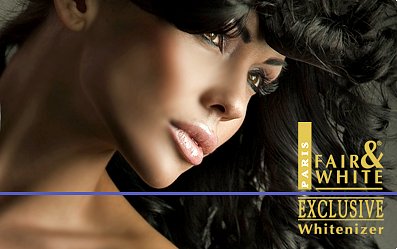 Fair & White Exclusive Powder "C" 6 week Intensive Treatment Kit
Serum: 6 x 8 ml/6 x 0.27 fl.oz
Powder: 6 x 0.2 gr/6 x 0.007 oz
Voted #1 Product for Acne Scars by consumers. The Exclusive Powder C Protects skin against environmental pollutants, preserving skin's elasticity with Vitamin "C" complex. Lightens and smoothes skin to a flawless complexion with melanin blocking agent, Hydroquinone. Dark spots will become a thing of the past making your skin more radiant.
"Powder C" is the first skin whitenizing treatment with Geniune Vitamin C. Thanks to its hermetic encapsulation system, the anti-pigmentary and anti-radical properties of Vitamin C are perfectly preserved, the treatment is overactive.
The combination "clearing serum+powder" creates a powerful formula actively fighting against spots, and leads to spectacular results.
Your complexion is lighter, spots tend to disappear, your skin is radiant.
To be used as an intensive 6-week treatment (one 8-ml bottle per week).
To be used in the morning and/or in the evening on a perfectly clean skin. Shake before each application.
1 bottle = treatment for 1 week.