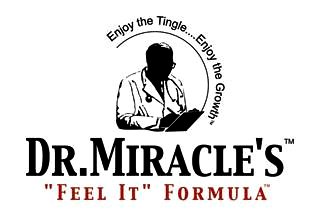 Dr. Miracle's Intensive Spot SERUM Hair & Scalp Treatment
EXCELLENT ON RELAXED, BRAIDED, WEAVED OR NATURAL HAIR
Size: Net Wt. 4oz./118mL
Benefits:
My Dr. Miracle's Intensive Spot Serum Treatment is my prescription for your scalp areas that need extra help, and for your hair areas where split ends, slow growth & breakage are a real problem.

• "Feel It" Formula tingling sensation should be used directly on your scalp where you have the most slow growth problems.
• Stimulates blood flow to the scalp.
• Spot Serum ends breakage & split ends.
• Spot Serum also shines, conditions, strengthens & moisturizes.
• Spot Serum continues to work even after you stop feeling it.

My most intensive treatment ever. Smile...it's working.
How To Use:
For best results use twice a day. First, place a small amount of Intensive Spot Serum onto your hands and gently massage into the scalp areas with the slowest growth problems. Now, enjoy my "Feel It Formula". Next, use on the ends of your hair to help end split ends and breakage. Lastly, use a small amount on the rest of your hair for fabulous shine and as a wonderful moisturizer and conditioner. Leave in and do not rinse out. Style as usual.

For amazing results use my entire family of Dr. Miracle's hair care products. You'll be glad you did.
Ingredients
THERMALCEUTICALTM COMPLEX: "My complex cools and calms the scalp".
INGREDIENTS: Cyclopentasiloxane, Dimethicone, Dimethiconol, Phenyltrimeticone, Isopulegol, Menthoxypropylenediol, Menthone, Glycerin Acetal, Menthyl Lactate, Menthol, Mentha Peperita (Peppermint Oil), Eugenia Caryophylus (Clove Leaf Oil), Fragrance, D&C Red #7 / C1-15850, D&C Violet #2 / C1