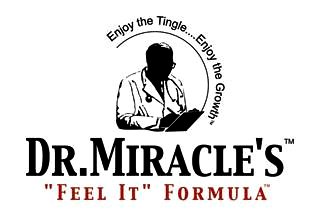 Dr. Miracle's Anti-Breakage Strengthening Creme
Size: Net Wt. 4oz./113g
Benefits:
My Dr. Miracle's Anti-Breakage Strengthening Creme is a fabulous creme hairdress that can be used everyday on your hair and scalp.

• "Feel It" Formula'sTM tingling sensation supports strong growing hair and healthy scalp.
• ThermalceuticalTM complex penetrates hair shaft, ending breakage while adding brilliant shine.
• Works deep into the scalp waking up dead hair follicles.
• Featherlight cream moisturizes, conditions and finishes your hair and scalp.

My family members who use creams love this product...you will too!
How To Use:
Use twice a day. Apply directly to scalp and massage gently. Now experience my "Feel It" FormulaTM. Use on hair as a finishing touch to shine, condition and moisturize. Leave in. Style as.

For amazing results, use my entire range of Dr. Miracle's hair care products. You'll be glad you did.
Ingredients
THERMALCEUTICAL™ COMPLEX: "My complex cools and calms the scalp."
Ingredients: Water Deionized (Aqua), Lanolin, Sorbitian Stearate, Paraffin, Polysorbate-60, Isopropyl Palmitate, Petrolatum, Cetyl Alcohol, Dimethicone Copolyol, Menthone Glycerin Acetal, Isopulegol, Menthoxypropanediol, Menthol, Carathamus Tinctorius (Safflower Seed Oil), Prunus Amygdalus Dulcis (Sweet Almond Oil), Ricinus Communis (Castor Oil), Buxus Chinensis (Jojoba Oil), Hydrolyzed Soy Protein, Hydrolyzed Wheat Protein, Carbomer, DM DM Hydantoin, Propylene Glycol, Diazodinyl Urea, Methylparaben, Propylparaben, Triethanolamine, Carmal Color F. D. & C Yellow #5 / C1-19140.