Advanced Dual Complex Fade Gel
With Hydroquinone
Maximum strength Hyrdroquinone formula works at night to help gradually fade dark spots and discolorations while it evens skin tone.
Directions: At night after cleansing, apply to dark or uneven areas.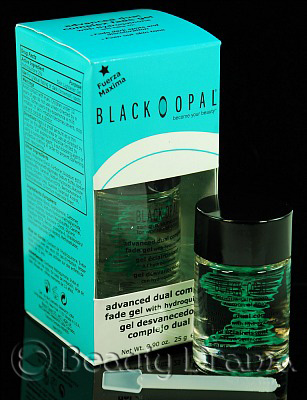 Active Ingredients:
Hydroquinone 2%......................Skin Lightener Gel
Use:
For gradual fading of dark (brownish) spots.
Directions:
Apply a small amount as a thin layer on the affected area or use as directed by a doctor. Sun exposure should be limited by using a sunscreen agent, a sun blocking agent or protective clothing in order to prevent darkening from reoccuring.
Ingredients:
Water, Propylene Glycol, Carbomer, Disodium EDTA, Sodium Sulfite, Sodium Metabisulfite, Caramel, Sodium Hydroxide, Butylene Glycol, Glycerin, Tirsodium EDTA, Benzophenone-4, Imadazolidinyl Urea, Guanine, Isopropyl Alcohol, Methylcellulose, Chromium Hydroxide Green.