AFRICAN VENUS
Complexion Lightening Cream
African Venus Complexion Lightening Cream, with its high quality ingredients including remarkable HYDROQUINONE gives a lighter, smoother complexion, fragrance and freshness to your skin, a healthy and lovely appearence.
Size: 1.76 oz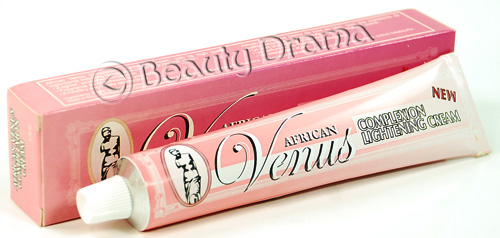 Directions:
Wash the skin gently dry, then apply a small amount of cream by smoothing evenly with the fingertips on the face, neck, or arms and legs, etc. Allow the cream to penetrate the skin and after a while apply again, rubbing well in until the cream vanishes. Repeat the application once or twice daily for best results.
Ingredients:
Water, glyceryl stearate, cetearyl alcohol, mineral oil, hydroquinone 2%, fragrance, sodium lauryl sulphate, octyl dimethyl PABA, propyl paraben, sodium metabisulfite. Made in EU.